Why Bridgerland Audiology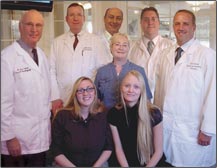 Bridgerland Audiology and Hearing Aids L.L.C. has been serving the intermountain west for over 40 years. Our experience coupled with our value make us an unbeatable hearing health care provider! Some of the ways we will serve you is:
FREE Comprehensive Hearing Test! Com and get your hearing tested for FREE by one of our Doctors of Audiology, no pressure, not tricks, and no gimmicks. Make an appointment today!
FREE 30 Day Trial! With so many choices in styles and technology levels, finding the perfect hearing aid for your needs can seem impossible, but now you can "test drive" any hearing aid FREE for 30 days, come talk to one of our Doctors of Audiology to find out more!
FREE Cleaning and Adjustments On ALL Hearing Aids! Hearnig aids are delicate instruments, and ALL of them will eventually need some sort of follow-up care. Bring in your hearing aids (even if you didn't buy them from us) for a FREE deep cleaning (which often revives even "dead" hearing aids) or for any adjustment or modifications you need!
Expect Superior Service! Our staff of qualified professionals is here to serve you. We focus on patient care to make sure your hearing is the best it can be!
Expect the Most Competitive Prices! Our everyday prices beat most "specials" from other hearing aid dispensers. Come in and compare without obligation.
Expect No Interest Financing! We have the most flexible payment plans with INTEREST FREE financing!
Expect State-Of-The-Art Technology! We use the most advanced clinical diagnostic equipment in the industry, and we offer the worlds most sophisticated hearing aids!
You Can Trust Your Hearing To Us! With the most competitive pricing anywhere, and our interest-free payment plans, you won't find better value GUARANTEED! Our Doctors of Audiology are dedicated to providing the very best service in the industry. No pressure, no tricks, and no gimmicks!